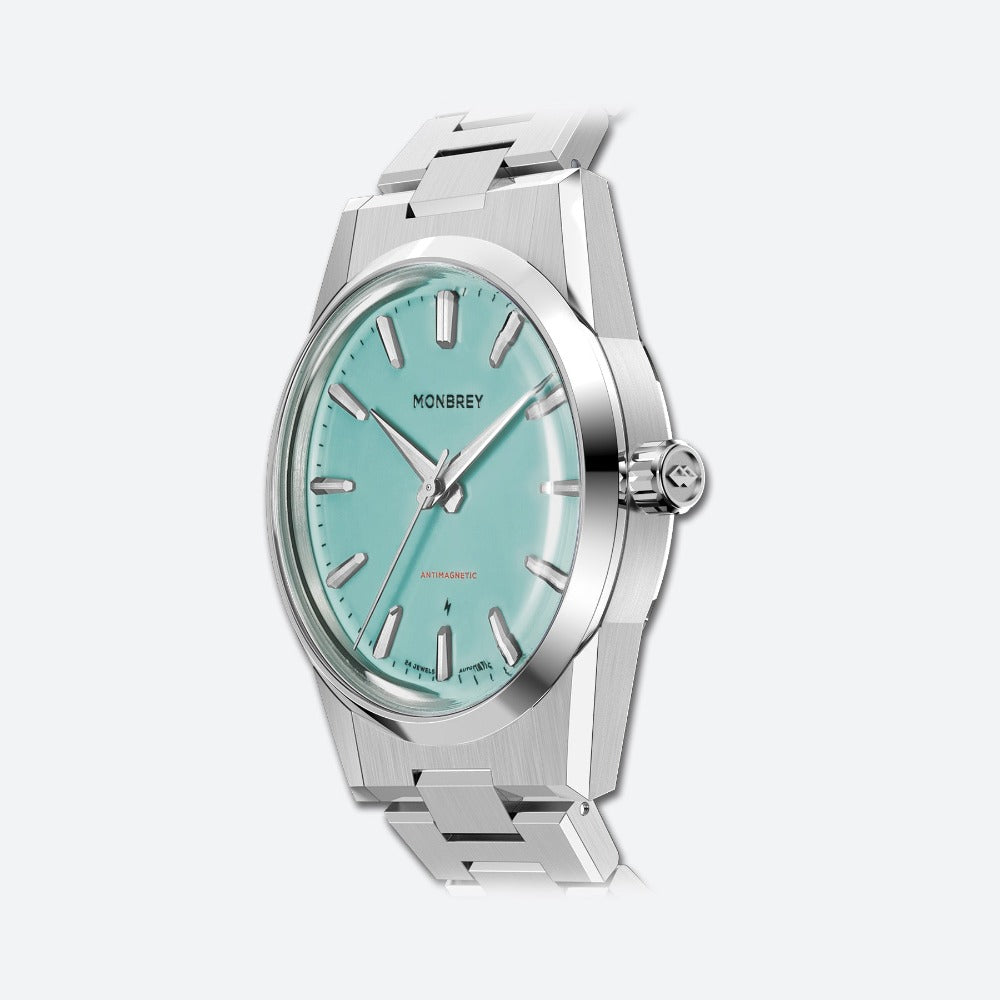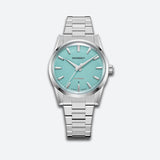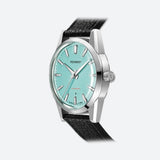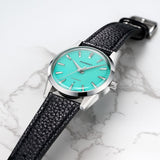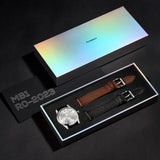 Description

In Production, Shipment in Nov-2023

 

MB1 - our first series inspired by the '70s wedge era car design movement. The wedge era in car design was characterized by a distinctive angular aesthetic. This angular aesthetic, reminiscent of iconic cars like the DMC DeLorean, Lamborghini Countach, and Aston Martin Bulldog, is brought to life in MB1. It's designed as if it came from the 1970s but in another dimension; with its classic size, multi-faceted details, and intriguing design similarity came across the past and the future.

L06 comes with a turquoise blue enamel-coated dial

The case is made of 316L stainless steel with a distinct finish, featuring angular lugs and a side profile. Achieving exceptional magnetic resistance of up to 4800 A/m, the calibre is enclosed in a Faraday cage. MB1 is a tribute to an era that continues to inspire and captivate.
Specifications

About the watch

Japanese Miyota cal.9039 automatic calibre
Sapphire crystal with AR (anti-reflective) and anti-fingerprints coating
316L Stainless steel case
Epsom patterned Italian genuine leather strap with quick-release
5 ATM / 50 meters water resistant (ISO 22810:2010)
≥ 4800 A/m Magnetic resistant (ISO 764:2020)

About M1 metal bracelet

Solid 316L Stainless Steel
Quick-release spring bar
Tool-free micro-adjustment buckle
Dimensions

Ø38.5mm diameter
10mm case thickness + 2mm dome crystal
47mm case length (lug-to-lug)
Strap width 20-16mm (lug-buckle)
Fits from 6-inch ~ up to 8-inch wrists
Shipping & Policy

All prices are shown excl. VAT.
Orders placed within Hong Kong SAR for free shipping via SF Express.
International orders ship via Express service (DHL, FedEx, etc). We are not responsible for any taxes, duties, and fees that may be levied by your customs authority upon delivery.
In The Box

MB1 watch
Black epsom patterned Italian genuine leather strap
Brown epsom patterned Italian genuine leather strap
Warranty information

If you choose the M1 Metal Bracelet package

MB1 watch
M1 bracelet
Black epsom patterned Italian genuine leather strap
Brown epsom patterned Italian genuine leather strap
Warranty information
---
ANGULAR AESTHETIC IN A 37.5MM CASE
The wedge-shaped case design is inspired by the '70s '80s wedge era car design and the modern Tesla Cybertruck design. It is characterized by a distinctive angular aesthetic.
The case has a distinctive finish. Linear brushed on the case side and lug top surface, mirror polishing on the bezel and edging of the lugs. These variations enhance the profile sharpness and catch reflection beauty.
POWERED BY A PREMIUM MIYOTA SERIES
The MB1 watch features the Miyota cal.9039 movement, meticulously crafted in Japan. While more expensive to manufacture than the Seiko NH series, the cal.9039 offers slimmer dimensions, a higher beat rate of 28,800 bph, and a smoother sweep for the second hand. These features enhance both the wearability and timekeeping accuracy of the watch.
Made in Japan
-10~+30 sec per day accuracy
Stop second (Hacking second)
Automatic and hand-winding
28,800 bph (beats per hour)
42+ hours power reserve
A THIN 12MM PROFILE
Featuring a double-domed sapphire lens and a 316L steel case, the MB1 offers a thin 12mm thickness (10mm without lens). The lens comes with both an AR (anti-reflection) coating and an anti-fingerprint coating. The slim Miyota 9039 integrated into the MB1 case offers a perfect presence on the wrist.
MULTI-FACETED
The readability of the time at a glance is the key in most conditions. Yet, we deem to create a dial has the capability of communicating the effort that it is restrained but not boring.

All MB1 watch hands and indexes are multi-faceted, carrying an abundance of thickness. The multi-faceted edges to the hands and indexes are in equal measure with the case in perfect harmony. It is designed to reflect light and sharpness.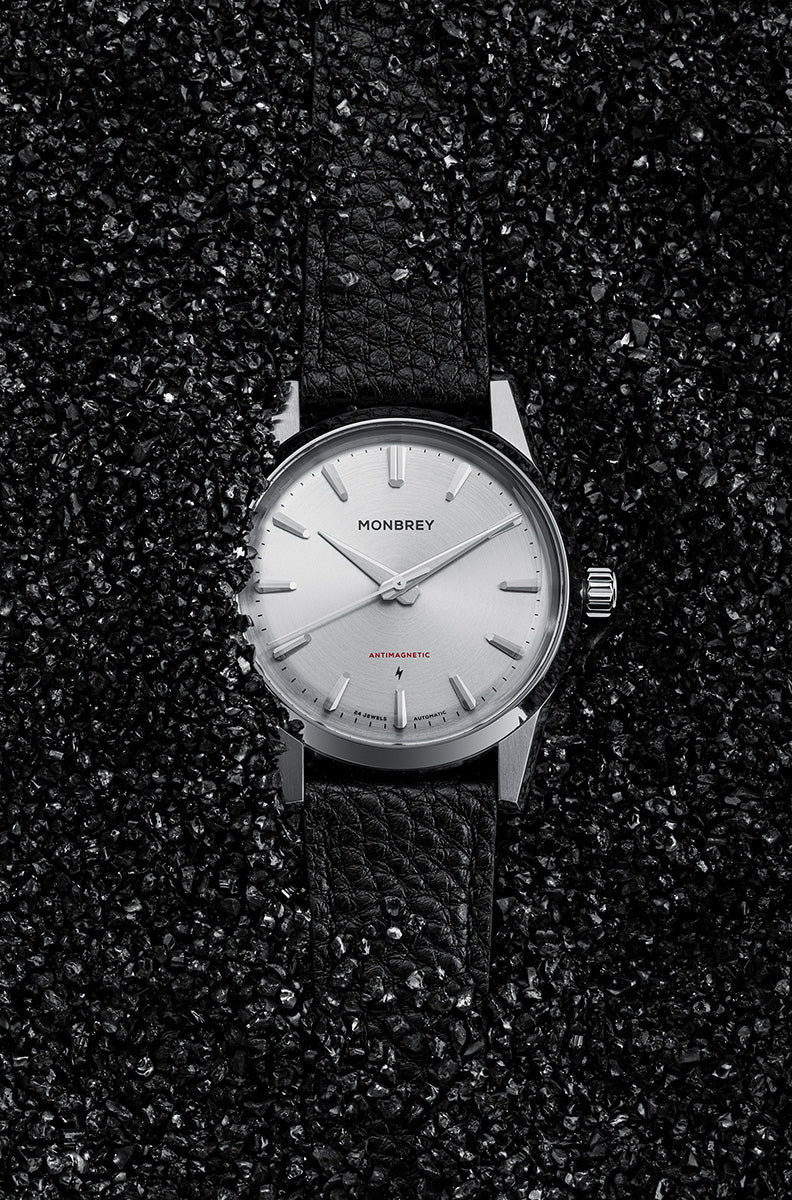 ANTIMAGNETIC GAUSS GUARD
During the "50s, the adventure and exploration movement triggered the "tool watch era". A clutch of watches was made to withstand the detrimental effects of magnetism on a watch's calibre. This is achieved by enclosing the calibre in a Faraday cage. Our Faraday cage delivers a high level of antimagnetic protection which resists exposure to a direct current magnetic field of 4800 A/m in ISO 764:2020 standard.
M1 BRACELET
Built for MB1 series. Available in Stainless steel and Gold PVD. It features a tool free solid micro-adjustment buckle that precisely fits up to all wrists. The removable links allow for further customization, ensuring that you can achieve a perfect fit for your wrist size.
QUICK RELEASE
With the M1 bracelet, you can effortlessly change your style in seconds. Equipped with a convenient quick-release spring bar, just like our leather strap. Within seconds the bracelet can be changed and perfectly docked. No more struggling or wasting time. Plus, it's incredibly convenient for regular cleaning, ensuring your watch and bracelet stays fresh and looking its best.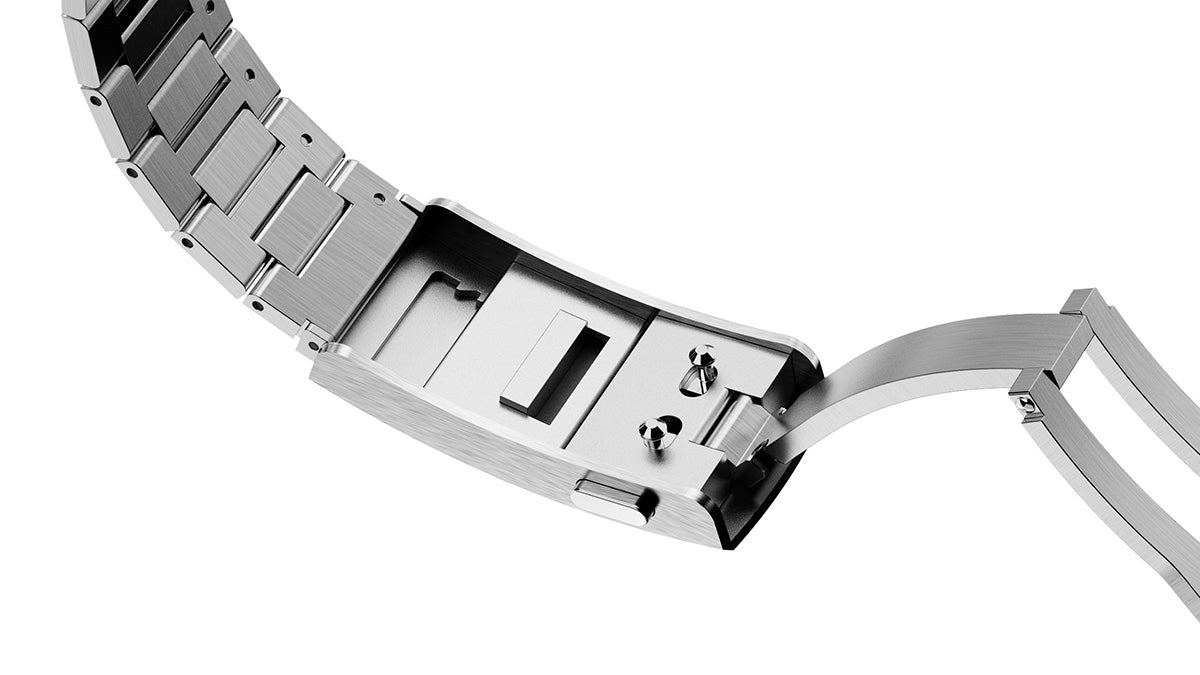 TOOL FREE MICRO-ADJUSTMENT
Experience unmatched wrist comfort with the M1 bracelet's tool-free adjustability. The buckle offers four additional positions for precise fitting. No matter the occasion, achieving the perfect fit is fast and easy. Simply press the button and slide the link to adjust the bracelet, without requiring any tools. Enjoy a customizable and comfortable fit that enhances your overall experience, ensuring your watch feels tailor-made for your wrist.
THEY TALKED ABOUT US
"The brand reflects the wedge era car design from the '70s and '80s, with a modern aesthetic philosophy and an authentic connection with traditional watch design."
"Features a mighty tempting King Seiko vibe design paired with a simple anti-magnetic old school execution that looks to nail the little details."
"Exploring the ways in which we interact with the past and past trends by recontextualising them for modern tastes."
"I've become very selective about previewing pre-production prototypes but Monbrey and their MB1 is exactly the type of wristwatch that I think is worth discovering early."
"How good they did the facets on the handset with the brushing and the applied indices. They just catch the light really good."